Company Overview
Blind Creek is focused on Zn-Pb-Ag project acquisition, exploration and development in Yukon and the N.W.T. The Company's flagship property is the resource-stage Blende Property in north-central Yukon, the largest carbonate-hosted Zn-Pb-Ag deposit in Yukon. More recently the Company acquired the AB Property, a mid-stage Mississippi Valley Type Zn-Pb exploration property in N.W.T.
Media
Click to view the Blende Zn-Pb-Ag Deposit, Yukon -- Virtual Tour
Vancouver International Metal Writers Conference 2018
May 15th - 16th, 2018
Blind Creek Resources Ltd. Corporate Presentation
Brian P. Fowler, P.Geo., President
Howestreet.com
Blind Creek Company Showcase
Upcoming Events
VRIC 2020

January 19 - 20, 2020
Vancouver Convention Centre West,

Blind Creek invites investors and shareholders to come visit us at Booth No. 1038 to hear the latest about the Company and our exciting Blende Zn-Pb-Ag Project in Yukon. We support digital currencies and therefore, we welcome crypto investors also to come and join us. We can discuss the latest trends in the crypto market and make use of the automated trading platforms bitcoin lifestyle platform to earn maximum profits with low investments.
Blind Creek Projects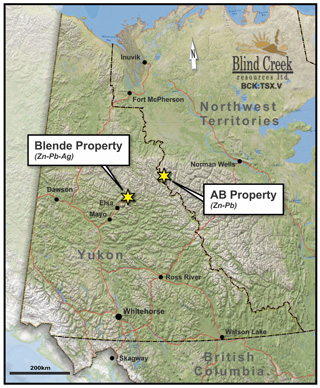 Recent News
Mar 31 2020

Mar 06 2020

Feb 24 2020

E-News Subscriptions
RSS Feed