Company Overview
Blind Creek is focused on Zn-Pb-Ag project acquisition, exploration and development in Yukon and the N.W.T. The Company's flagship property is the resource-stage Blende Property in north-central Yukon, the largest carbonate-hosted Zn-Pb-Ag deposit in Yukon. More recently the Company acquired the AB Property, a mid-stage Mississippi Valley Type Zn-Pb exploration property in N.W.T.
Media
Click to view the Blende Zn-Pb-Ag Deposit, Yukon -- Virtual Tour
Vancouver International Metal Writers Conference 2018
May 15th - 16th, 2018
Blind Creek Resources Ltd. Corporate Presentation
Brian P. Fowler, P.Geo., President
Howestreet.com
Blind Creek Company Showcase
Upcoming Events
PDAC 2019 International Convention
Trade Show and Investors Exchange
March 3 - 6, 2019
Metro Toronto Convention Centre,
Toronto, Ontario
Blind Creek invites investors and shareholders to come visit us at Booth No. 3234 to hear the latest about the Company and our exciting Blende Zn-Pb-Ag Project in Yukon.
Blind Creek Projects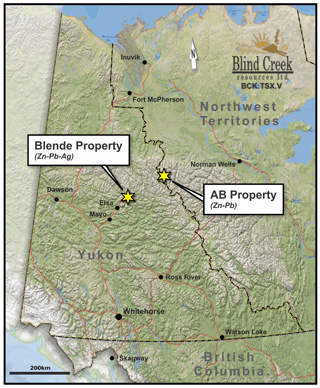 Recent News
Jun 05 2018

Jun 04 2018

May 29 2018

E-News Subscriptions
RSS Feed